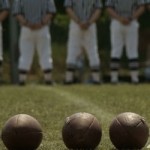 As we have previously discussed on this blog, unscrupulous investment professionals often target professional athletes because they have significant assets but are inexperienced when its comes to business matters. In a recent case, former NFL star Willie Gault was charged in connection with a pump and dump stock fraud scheme.
According to the Securities and Exchange Commission, Heart Tronics appointed Gault as a figurehead co-CEO along with former Hollywood executive J. Rowland Perkins in order to boost the company's image and attract investors. In reality, attorney Mitchell J. Stein was working behind the scenes to hire stock promoters to tout Heart Tronics stock on the Internet.
"Stein took advantage of Gault's celebrity to further prop up the image of Heart Tronics as a successful enterprise," said Stephen L. Cohen, Associate Director in the SEC's Division of Enforcement. "Stein secretly sold millions of dollars in stock while peddling false claims of Heart Tronics's lucrative sales orders, and has been living the high life off his illicit proceeds with multiple homes, exotic cars, and private jets."
Specifically, the SEC claims that Heart Tronics fraudulently and repeatedly announced millions of dollars in sales orders for its product between 2006 and 2008. However, the company never really had any actual customers. To cover up the stock fraud, Stein created fake documents to back up the public disclosures.
With respect to Gault, the SEC alleges that he failed to question Stein's fraudulent activities and, therefore, breached their fiduciary duty under the Sarbanes-Oxley Act. In addition, the SEC alleges that Stein and Gault used false representations to convince one investor to make a significant capital contribution to the company. They then both used the funds for their own personal use.
Athletes and Investment Fraud
As we have discussed on this blog, professional athletes are increasingly getting wrapped up in investment schemes. Just last month, we discussed a stock scheme involving the Notre Dame football player made famous by the movie Rudy.
Athletes are also likely to become victims of fraud as well. As we highlighted in another blog post, athletes are often the targets of dishonest investment advisors looking to capitalize on their wealth off the field. In fact, at least 78 players were defrauded of more than $42 million from a wide variety of investment schemes between 1999 and 2002, according to the NFL Players Association.
No matter who you are, if you have been the victim of a stock scam, we may be able to help you recover your losses. Contact us today at 215-839-3953 for a free consultation.
At Wall Street Fraud, we are dedicated to offering assistance to those who have been hurt by improper corporate or investment practices.
If you have been the victim of stock brokerage fraud, securities fraud, mutual fund fraud, stockbroker fraud, annuities fraud, or any other type of investment fraud, please contact us today for a free case evaluation. Our talented and aggressive legal and professional staff is eager to help you recover your losses.