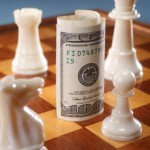 On this blog, we often mention the Financial Industry Regulatory Authority, particularly its supervision of stockbrokers and brokerage firms. This post offers investors some additional insight into the role that FINRA plays.
FINRA is the largest non-government regulator of securities in the United States. In total, it oversees nearly 4,460 brokerage firms, about 160,485 branch offices and approximately 629,520 registered securities representatives. While FINRA serves many roles, we want to focus on three that are of particular concern to investors.
Enforcement
One of FINRA's main responsibilities is to discipline brokers and brokerage firms that violate securities laws and harm investors. In 2011, FINRA barred 329 individuals and suspended 475 brokers from association with FINRA-regulated firms, levied fines totaling more than $63 million, and ordered more than $19 million in restitution to investors.
Arbitration
FINRA also runs the largest securities-related dispute resolution forum in the world. Therefore, should you find yourself in a dispute with a securities firm or individual broker, FINRA's dispute resolution services (arbitration or mediation) can be an effective way to resolve the dispute without going to court. We have helped numerous investors recover their losses through FINRA arbitration.
Investor Education
Over the past several years, FINRA has worked to enhance its investor education program. It now produces alerts, interactive tools, and other educational content aimed to help investors make sound financial decisions. We offer share these alerts with our readers.
As we have previously discussed on this blog, FINRA's BrokerCheck is one of its most useful tools because it provides investors with a quick way to check a broker's disciplinary and professional background.
If you have been the victim of securities fraud, we may be able to help you recover your losses. Contact us today at 215-839-3953 for a free consultation.
At Wall Street Fraud, we are dedicated to offering assistance to those who have been hurt by improper corporate or investment practices.
If you have been the victim of stock brokerage fraud, securities fraud, mutual fund fraud, stockbroker fraud, annuities fraud, or any other type of investment fraud, please contact us today for a free case evaluation. Our talented and aggressive legal and professional staff is eager to help you recover your losses.