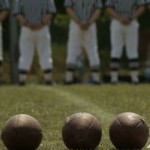 The Financial Industry Regulatory Authority (FINRA) Investor Education Foundation and the National Football League (NFL) have announced that they are working together to teach incoming NFL players how to spot and avoid investment fraud. As we have frequently discussed on this blog, professional athletes are common targets for unscrupulous investment professionals looking to take advantage of their wealth and status.
The program is designed to teach incoming NFL players how to choose the right financial professional, including how to do a background check. Participants will also learn about the risks of taking on debt. As detailed by FINRA, understanding the psychological tactics and how they can be used against investors can help players avoid becoming victims of con artists.
"The FINRA Foundation's partnership with the NFL is a team effort to ensure that players who are starting their professional careers don't become victims of investment fraud," said Gerri Walsh, President of the FINRA Investor Education Foundation. " NFL players have been targeted in the past and the presentations and resources that we are providing will give players and their families the knowledge and tools they need to make smarter financial decisions."
No matter who you are, if you have been the victim of a stock scam, we may be able to help you recover your losses. Contact us today at 215-839-3953 for a free consultation.
At Wall Street Fraud, we are dedicated to offering assistance to those who have been hurt by improper corporate or investment practices.
If you have been the victim of stock brokerage fraud, securities fraud, mutual fund fraud, stockbroker fraud, annuities fraud, or any other type of investment fraud, please contact us today for a free case evaluation. Our talented and aggressive legal and professional staff is eager to help you recover your losses.