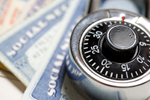 The Securities and Exchange Commission has proposed a new rule aimed to protect investors from identity theft. The rule would specifically require broker-dealers, mutual funds, and other SEC-regulated entities to create programs to detect and respond appropriately to identity theft red flags.
The SEC issued the proposal jointly with the Commodity Futures Trading Commission (CFTC). As such, the rules will also apply to futures commission merchants, retail foreign exchange dealers, commodity trading advisors, commodity pool operators, introducing brokers, swap dealers, and major swap participants.
The Dodd-Frank Wall Street Reform and Consumer Protection Act requires the agencies to adopt identity-theft provisions for the entities they regulate in order to conform with the Fair Credit Reporting Act. The proposed rules mirror those adopted in 2007 by the FTC and other federal financial regulatory agencies already subject to the FCRA.
The rule proposal would require SEC-regulated entities to adopt a written identity theft program that would include reasonable policies and procedures to:
Identify relevant red flags.
Detect the occurrence of red flags.
Respond appropriately to the detected red flags.
Periodically update the program.
Red flags of identity theft include alerts, notifications, or other warnings received from consumer reporting agencies or service providers, such as fraud detection services; the presentation of suspicious documents or personal identifying information; unusual use of an account; and notice from customers, law enforcement or other entities.
If you have been the victim of broker fraud or negligence, we may be able to help you recover your losses. Contact us today at 215-839-3953 for a free consultation.
At Wall Street Fraud, we are dedicated to offering assistance to those who have been hurt by improper corporate or investment practices.
If you have been the victim of stock brokerage fraud, securities fraud, mutual fund fraud, stockbroker fraud, annuities fraud, or any other type of investment fraud or negligence, please contact us today for a free case evaluation. Our talented and aggressive legal and professional staff is eager to help you recover your losses.