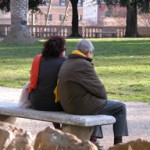 In a particularly egregious case of annuity fraud, a California insurance agent was recently sentenced to 90 days in jail. Glenn Neasham charged after selling a complicated annuity plan to an 83-year-old woman who shows signs of dementia.
Neasham, 52, said that Fran Schuber appeared to have full mental capacity when he sold her an indexed annuity plan in 2008. Her boyfriend, Louis Jochim, had purchased an indexed annuity from the same broker several years earlier, and recommended the plan to Schuber.
As reported by AARP, California's adult protective services was ultimately tipped off by bank manager who reported that Schuber seemed confused and influenced by Jochim when the couple came in to withdraw $175,000 from her savings for the purchase. In a court filing, District Attorney Rachel Abelson said there was "sufficient evidence presented [at trial] to show that Fran Schuber was not capable of consenting to the transaction in question and evidence showed that [Mr. Neasham] knew that at the time."
As elder fraud attorneys, we know that unscrupulous insurance agents and brokers often prey on older investors. In some cases, they will ignore evidence that suggests the investor may be confused or even lack mental capacity in order to secure a hefty commission.
If you have been the victim of annuity fraud, we may be able to help you recover your losses. Contact us today at 215-839-3953 for a free consultation.
At Wall Street Fraud, we are dedicated to offering assistance to those who have been hurt by improper corporate or investment practices.
If you have been the victim of stock brokerage fraud, securities fraud, mutual fund fraud, stockbroker fraud, annuities fraud, or any other type of investment fraud or negligence, please contact our securities fraud attorneys today for a free case evaluation. Our talented and aggressive legal and professional staff is eager to help you recover your losses.